J A S O N ' S S T O R Y
47 year old Jason decided it was time to reclaim his physique. . .
Struggling with mental health and not attending the gym. Jason, father of 2, through immense mental strength and some assistance from SIXPAX is now as lean as he has ever been and competing in the Ultra white-collar boxing event July 15th for Cancer Research.
Jason says:
"I was struggling with a mental health relapse due to a separation and divorce proceedings, living within four walls 24/7 with no view and I wasn't sleeping.
My focus was to use the gym to support getting my mental health back on track, which I successfully did.
From September 2016 (up until now) I started sticking to a structured and guided training program and most importantly eating SIXPAX. This not only reduced my weight from 13.4 stones to 12 stones, but for someone experiencing mental health difficulties it can be hard to even make yourself a cup of tea some days, so having really tasty meals ready and available not only helped my mental health, but was the key thing to changing my body.
SIXPAX is still the key foundation to all my training especially with my preparation for my fight on July 15th, 2017 for the Ultra White- Collar boxing event to raise money for Cancer Research.
I am thankful to SIXPAX for helping not only my physical but mental well-being. And will be even more thankful once I make it through my fight!"
*Weight loss results may vary.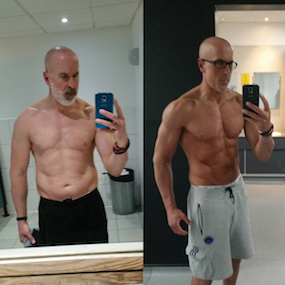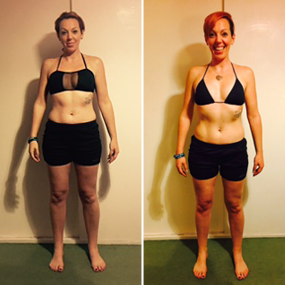 E L O I S E ' S S T O R Y
Eloise embarked on a mission of exercise and SIXPAX 1200 to train for her Sahara Desert Trek. An amazing transformation for someone who hadn't exercised, or eaten regularly in years, her previous diet was coffee and chocolate bars.
Eloise's weight dropped by 1kg, as she gained muscle and her body shape changed considerably, losing 4% in body fat.
Read what Eloise has to say about her experience:
"For someone who didn't do food to now eating three times a day it's all down to SIXPAX! Teaching me about nutrition and protein, how my body needs food to repair when training, it's been life changing.
My challenge was to trek the desert and it was also to love my body starting from the inside. It's overwhelming how good I feel by being provided the 'right' food for just me.
Now a couple of months on I've achieved my trekking challenge and I have a new passion for protecting and looking after my body and loving life.
By SIXPAX taking the stress away of buying, prepping, weighing, cooking from me and simply putting delicious cooked meals infront of me I realised I can eat, I do like food and I love the energy the real food supplies me!
The personal care to make a menu and meal plan exactly for what I needed made it possible to double my training and double muscle whilst also reducing my body fat mass – I feel I can achieve anything now and have even set my new challenge for 2017.
Thank you SIXPAX I'm forever grateful."
*Weight loss results may vary.
S I X P A X S T A R
A 24 year old personal trainer achieved these amazing results on SIXPAX 3000.
In just 24 days he lost 3kg, gained 1kg of muscle mass and lost 2% in body fat.
Take a look at what he said about his experience:
"I would never recommend any one product unless I truly believed in it. My first impressions of SIXPAX are largely positive. For a start, the packs which I have received – in particular the healthy pizza and turkey meatballs – were filling enough to keep me full and resist the temptation to snack, but also the fact that they tasted so good was even more satisfying. It can be tough to get the balance right between taste and fat-shredding nutrition but these guys manage this pretty well!
As the website states (and showcases) , the meals will "help to strip body fat, promote muscle growth and get your body ripped". As I have only been trialing it for one month, over the short term the effects aren't going to be felt deeply, but health and fitness is always a long game with short term gains. The amount of calories required for you to make progress will differ from mine (we have different BMR's, activity levels, et cetera) but my one month experience has definitely allowed me to evidently harden up, stripping the body fat little by little whilst maintaining my muscle mass.
The weight, as expected when clearing the junk out, has dropped a few figures but I won't go into specifics as I don't want to mislead you – when you first fix up the diet, you will inevitably see major changes on the scales due to water retention levels and so on.
This is where SIXPAX excel as they clearly recognise that customers will be approaching from different viewpoints, expecting varying results at a variety of speeds. The food is tasty enough to satisfy the pallet, whilst they don't make statements about the immediacy of the outcomes that it can't back up."
*Weight loss results may vary.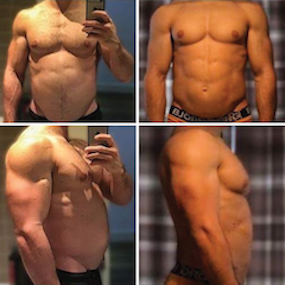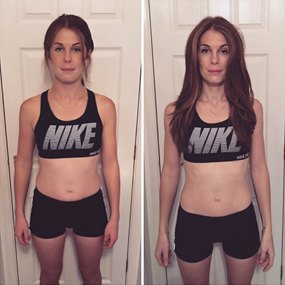 A P R I L ' S S T O R Y
April, 26 year old mum of two achieved great results on SIXPAX 1200 , in 24 days she lost an amazing 1 stone!
Combined with training 3 times per week, she dropped 3% body fat and now has a lean physique to build muscle on.
Read what April says about her SIXPAX journey:
"What started of as a challenge became a new lifestyle for me. As a busy Mum of 2, I often found I was skipping meals and snacking unnecessarily throughout the day. Whilst I've never been extremely overweight, my bad habits were starting to make me feel sluggish and tired.
When I started SIXPAX, I didn't realise how much it was going transform my body. Combined with weight training, I dropped 1 stone in weight and and nearly 3kg of fat! I now have so much more confidence and energy. Not only was it reassuring to know I was getting all the right nutrients to fuel my body but it was so easy. No preparing, no cooking, no mess, just fresh food delivered to your door.
I no longer have cravings and I'm looking forward to continuing my fitness journey. SIXPAX have given me such a great start and I cannot thank them enough. They are a such a friendly team and are always there should you need support or advice during your meal plans.
Thank you Nas and to everyone at SIXPAX!"
*Weight loss results may vary.
W I L F ' S S T O R Y
30 years old & starting to feel the pounds creep on, & his fitness creep away Wilf decided it was time to take action.
For 48 days Wilf combined the fresh, macro meals on SIXPAX 1800 with HIT training, 5 times a week & lost over 2 stone. He hasn't looked back & with his wedding this year why would he!
Check it out for yourself @w8jnr – Instagram
"So here are the results people, after a gruelling 8 week challenge and having 10 days out due to a harline fracture in my elbow half way through the challenge I decided to carry on regardless the injury and do what I can and I'm so pleased that I did.
So I lost a staggering 21 pounds and 12% body fat and a considerable loss of inches too, taking me to 16.6 stone and 17.8% body fat.
This is only the beginning and my next goal is to get to 16 stone and between 13/15% body fat.
When it comes to what you want in life #DoTheDamnThing & go for it! #watchthisspace thanks to all the team at VTC especially me main man @ashcon_velocity also big shout out to the team @sixpaxfood"
*Weight loss results may vary.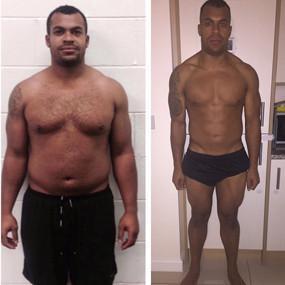 Visit Us
NutriSolve Ltd
Unit 9 School Road
Lowestoft
Suffolk
NR33 9NA