Frequently Asked Questions
How do I purchase MY Food or SIXPAX?
You can order online, or if you prefer to talk things through please call us on 01202 697100
How do Recurring Weekly Payments work?
This option is suitable for 7 or 6 day plans or Meal Packs only.
We deliver your plan on the same day each week & automatically take payment. You can manage your delivery dates in your account area, or we can do it for you.
There is no contract & you can cancel at any time with 7 days notice, simply email 
sales@myfood.co.uk 
Where do you deliver?
We deliver to England, Scotland & Wales, excluding Northern Ireland, Channel Islands, Isle of Man, Scottish Highlands & Islands, Scilly Isles.
Some parts of Scotland are serviced, so if you are in any doubt please chat to us online or email us at  sales@myfood.co.uk 
What days do you deliver?
As long as you order by each Thursday morning at 8.30am we will deliver to you and text you with your one hour delivery slot on Sunday, ready for you to start with your meal prep or diet plans on the Monday. 
What time do you deliver?
Standard Sunday deliveries will normally arrive in the morning but we have to say between 8am-5pm. You will receive a text message to confirm your 1 hour time slot on the morning of your delivery.
What happens if I'm out when my delivery arrives?
When you place your order you can add a very short note to let us know a safe place to leave your chilled hamper if you are out. Dont worry as your food is sealed and will stay chilled for hours.
Can you deliver to an alternative address?
Yes we can, your booking panel for your plan allow you to easily select and manage a different address for each weeks delivery simply swaps addresses selecting the alternative address required for each week. we advise you not to open your hamper until you can refrigerate the contents according to the instructions provided.
I bought more than 1 week, how many deliveries will I have?
We cook freshly to order & complete the creation and cooking of your meals minutes before we despatch, allowing us to make one delivery each week. You also have the option to a single day and upto seven days of food at one time.  So expect to receive one delivery per week for what every you order.
How soon should I start MY Food or SIXPAX after I receive my delivery?
If you have purchased a we recommend that you start your plan on the Monday the day after you receive your delivery
Does the food require heating & can it be frozen?
Some meals need to be heated and some can be eaten cold; instructions can be found on the labels. We advise you to refrigerate your food as soon as you open your hamper. All meals are fresh making them suitable for freezing for up to 28 days.
Are the meals microwavable?
We suggest following the heating instructions provided, however all meals are microwavable. If you wish to microwave your meal, empty contents into a microwaveable dish & ensure that the meal is piping hot before enjoying
What can I drink during the plan?
If you have selected a low calorie plan and are looking to lose weight, we recommend reducing your alcohol & caffeine intake & drinking plenty of water whilst on your plan. Herbal teas are great too.
Can I add protein supplements?
We offer personalised macro eating plans that report on all nutrition elements, we make fresh and offer high protein snacks and shakes and report on all macros, using supplements may help increase your calorie intake, aid muscle recovery however our macro plans are designed to optimise training performance.
What can I do if I get hungry?
If you have selected a weight loss plan, then it is logical that you should feel hungry, You may select to increase your calorie option and add our healthy snacks to your plan.
Why is that & how long does the food last?
We add a eat before date on each of your meals. We don't add any additives or preservatives, but your naturally cooked meals will taste great for 7 days when stored in your fridge as adviced.
Are MY Food or SIXPAX suitable for people with any severe allergies?
Unfortunately, we are not an allergen-free kitchen, How every if you are purchasing individual meals you can filter out any of the 14 listed allergens.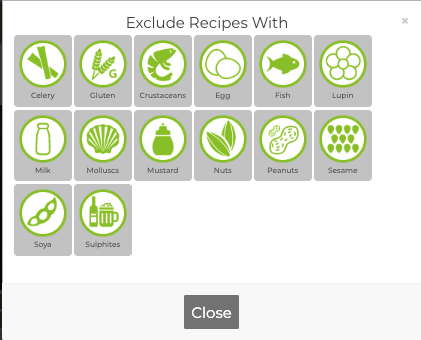 We use nuts in some of our meals and advice you not to use our service if you have any sever allergens. Please contact us on 01502 581162 to discuss the severity of your allergy as in some instances we may be able to cater for you.
Do you offer many lifestyle options?
Yes, we have specific Diet and Total Eating Plans for all the main lifestyle options, the same options as listed for the purchase of individual Meal Prep purchases which are Red Meat, Fish and Poultry, 
Poultry & Fish, Poultry Only, Pescatarian, Vegetarian, Vegan, Dairy-Free, Gluten-Free, And all the same options for Halal.
or MY Food plans and meals and the same for our SIXPAX Plans and Meal Prep Options.
What can I drink during the plan?
We recommend reducing your alcohol & caffeine intake & drinking plenty of water whilst on your plan. Herbal teas are great too
Can you cater for specific religious requirements?
Yes, we offer Halal options for our plans & meal prep, additional personal ingredient exclusions are available by request for your diet plan and directly from the top left menu in our meal prep shop.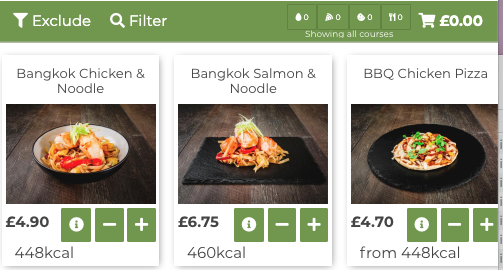 Are the plans suitable for diabetics?
As our meals & snacks do contain natural sugars, the plans are not made for Diabetes Type 1, or those of you who are insulin-dependent, However, every plan and meal is nutritionally reported and monitored. Please call us if you would like to know more, as we have other sites that offer more customisable plans that may provide what you may need. or just email sales@sixpax and we will get right back to you. 

Visit Us
MY Food Lifestyle Ltd
School Road
Lowestoft
Suffolk
NR33 9NA
Open Hours
M-F: 11am – 7pm
Sat: 10am – 7pm
Sun: 10am – 5pm